MIAMI -- Everything surrounding the Super Bowl is in excess.
And Wednesday night -- when Adam Richman of "Man V. Food" downed a 48-ounce steak in about 16 minutes -- was no different.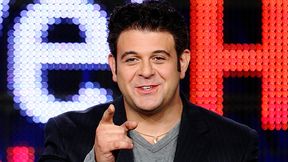 Frederick M. Brown/Getty Images
The host of the wildly popular Travel Channel show about food challenges went to the Shula's steakhouse at the Alexander Hotel in Miami for Super Bowl week to take a modified Shula steak challenge: Eat a 48-ounce porterhouse in less than 20 minutes.
Out of more than 80,000 competitors, no one had ever eaten it that fast.
But it was nothing to Richman.
While the live show went to commercial breaks and cameras were repositioned for the 500 people who petitioned online to attend the taping, Richman kept eating.
He finished with more than three minutes remaining. And I think he was coasting for the final few minutes.
"It was really hard chewing that much meat because it was so thick. My jaw is sore," Richman said. "But the steak is delicious. I didn't need condiments or anything."
As the show ended, Richman attempted to pull off some clothes -- including his "I still call it Joe Robbie" T-shirt -- to jump in the pool. But the director smartly stopped him.
"There were live camera wires in there," Richman said, laughing.