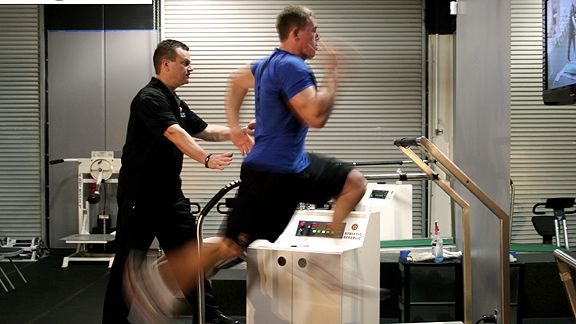 Courtesy of Athletic RepublicStanford running back Toby Gerhart hopes his training can boost his stats at this week's NFL combine.
Stanford running back Toby Gerhart knows there will be doubters this week at the NFL scouting combine in Indianapolis.
"The combine is nerve-racking, but it's a great opportunity to showcase myself," said Gerhart, who was the Heisman Trophy runner-up with 1,871 rushing yards and 27 touchdowns this past season. "I want to be there with other running backs. I want to compete against them. I want to show the GMs, the owners and the coaches."
Gerhart, 6-foot-1 and 235 pounds, skipped his final year of eligibility at Stanford to make himself eligible for April's NFL draft. Despite having a stellar college career, Gerhart has been labeled as too slow as an NFL running back and is not projected as a first-round pick. He knows he has something to prove this week.
"I've seen what people are saying about me on TV. It's hard to sit there and watch when they talk about top-five running backs and I'm not one of them. Where's the love?" Gerhart said. "They say 'Toby can't play running back at the next level.' I want to show them at these drills. I'm going to show the people that I can a lot better than they expected."
That's why he's spent more time using a training technique revolutionized by Athletic Republic. You've seen the videos. That's when an athlete is running really fast on a treadmill. More than 1,000 NFL and NHL players use the technique to improve their speed and agility.
"I would throw up each time I would do it," said Gerhart, who has used this system of starts and stops on a specialized treadmill since the eighth grade. "I know I have some God-given ability. But where I excel over others is my work ethic. And that comes from training."
So how fast is his 40 now?
"You'll see this week," he said.