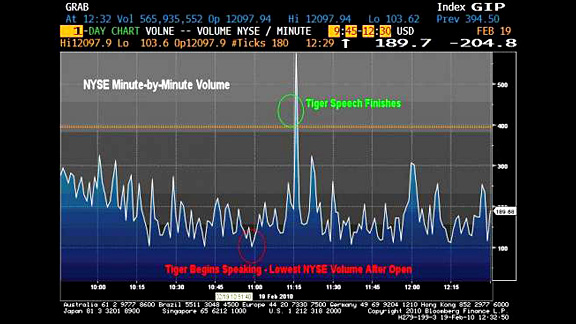 Bloomberg
When we say "Tiger bounce" to most people this video comes to mind, but if you were paying attention to the stock market on Friday you would have witnessed an even bigger Tiger bounce.
Check out the snapshot above of Friday's Wall Street trading.
If you thought Tiger's televised apology could get TV networks and social media in a tizzy, check out how Tiger has a hold on Wall Street. Volume tricked down to a daily low of 100,000 shares in the minutes leading up to his apology at 11 a.m. EST -- and sure enough as Tiger's speech came to a close some 13 and a half minutes later trading activity shot up to a session high of 600,000 as investors jumped back into the game.
In layman's terms, we think Tiger's apology is merely part of a "correction." Sure the news of Tiger has caused some high volume days (both in Wall Street and in the media ) but after the initial frenzy dies down we suspect that we will eventually come back to where we once were. Soon Tiger will be back on the course collecting trophies, and companies will line up to throw money at Woods' rising stock once again.