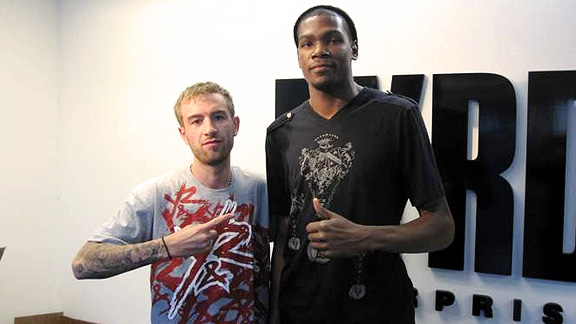 Courtesy of Chris PfaffChris "Drama" Pfaff with his buddy Kevin Durant.
You first met Chris "Drama" Pfaff on MTV's reality hit "Rob and Big." The Akron, Ohio, native worked for his cousin -- pro skateboarder Rob Dyrdek -- as a dog walker, skateboard builder and all-around verbal punching bag for the crew. But with the launch of Dyrdek's next show, "Fantasy Factory," Drama stepped up his game. He started his own music studio and production company and launched his own clothing line, called Young & Reckless.
For Y&R's spring 2010 line, Drama designed an exclusive T-shirt in honor of NBA phenom Kevin Durant. Page 2 asked why.
"Dude is young and killing the game right now," Drama said. "I'm a big fan of young people doing big things. He was on my radar when he was at Texas, too. First freshman to win the Naismith Award. Big things!"
Another KD, Kevin Delaney, introduced the pair. Delaney, the brand manager for Young & Reckless, is friends with the Oklahoma City Thunder's young phenom.
"Drama and Kev's brand images fit together perfectly," Delaney said. "The two hit it off from the get-go and have been buddies ever since."
We asked Drama what made him want to design clothes in the first place -- besides Rob's taunts, of course.
"I've always had an interest in clothing and the clothing business," Drama said. "I realized the advantage with our TV show to promote and market, and figured there's no time like right now."
The shirts, available at the Young & Reckless Web site, come in traditional All-Star colors, blue and white. There's also a special, very limited run in the Oklahoma City Thunder's colors. How limited? Only 35 were made -- in honor of Durant's jersey number.