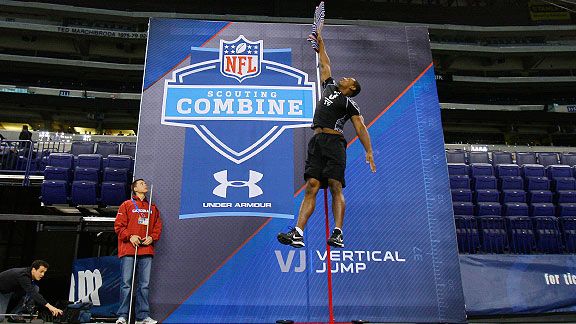 AP Photo/Darron CummingsOregon's Ed Dickson jumps during the NFL football scouting combine in Indianapolis.
INDIANAPOLIS -- Shrinkage has hit the NFL Scouting Combine.
And no, cold-water pools were not involved.
Colleges are notorious for stretching the truth when it comes to heights of players. At the combine, the NFL does its own fact checking. And for cornerbacks, height is just as important as the 40-time is for wide receivers. An inch could potentially cost prospects draft position and thousands of dollars.
"This NFL measurement is crazy. I thought I was 5-11, but they marked me down to 5-10," said UTEP cornerback Cornelius Brown, who is listed at 6-feet on the Miners' official web site.
Athletes are measured shoeless, standing with their feet V-shaped, told to lean back and tilt their head forward.
Wake Forest lists cornerback Brandon Ghee at 6-foot. This week, he measured in at 5-foot-11 1/4.
"I stood up as straight as I could, breathed in as hard as I could and stretched for every inch," Ghee said.
Nolan Carroll came into the combine at 6-foot-1, according to Maryland's official web site. By Sunday, he had lost two inches.
"I thought I was always 6-foot," he said. "I was surprised when I heard them say 5-11. I kind of was disappointed because I always thought I was 6-foot. You hear that 5-11 mark, it's kind of like, 'Awww, man.'
Asked what he'll tell people when questioned how tall he is and what his driver's license will read regarding height, Carroll chooses to ignore the NFL's assessment.
"I'm still 6-foot," he said with a grin.