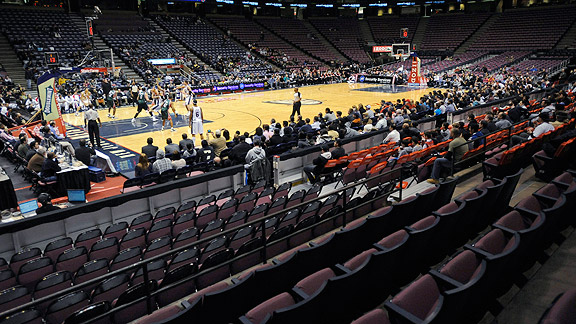 AP Photo/Bill KostrounThe New Jersey Nets will do just about anything to get fans into their building.
The New Jersey Nets will do anything to sell tickets … except win.
In the wake of their NBA-worst 6-53 record, the Nets have come up with yet another ploy to fill seats -- free tax returns.
The team has partnered up with Roni Deutch Tax Center to give every New Jersey resident 18 years or older a coupon for a free state tax return if they attend the Nets' game against the Orlando Magic at the IZOD Center on Friday, March 5.
Fans in attendance will also receive a discount on their federal tax returns if they choose to have Roni Deutch prepare them, as well.
Deutch is excited about the promotion and hopes it brings in a crowd to root on the Nets -- but wouldn't mind all the business, either. "I pray to God we have to do 100,000 tax returns," Deutch said. "Believe me, I want to overwhelm my franchisees in New Jersey and do 100,000 tax returns, and let's get some Nets wins, for goodness' sake."
Unfortunately for Deutch, the Nets have the worst attendance in the NBA and set a new low on Feb. 10 when barely 1,000 fans showed up.
"Obviously, this has been a challenging season on the court, but we remain committed to delivering for our partners and our fans," Nets chief executive Brett Yormark said. "This is another example of how we can do both."