His reputation assured, his fortune secured, the reins of his organization in the hands of his offspring, but the ultimate power still in his grasp, Jerry Buss, at 77, could be content with life in the slow lane, enjoying the excellence of his Lakers from the vantage point of his luxury box.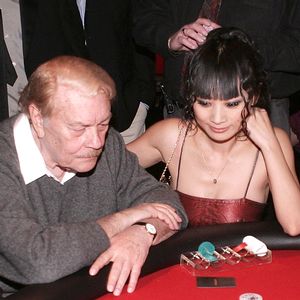 Vince Bucci/Getty ImagesJerry Buss and his passion. Well, make that two of his passions in one photograph. (Actually, this is fellow player and actress Bai Ling.)
The most successful sports owner in L.A. history, Buss has put nine championship banners on the walls of Staples Center. As owner of the defending NBA champions, Buss has been praised by Magic Johnson from the floor of the arena during the October banner-raising ceremony and by President Barack Obama in the White House during another event to honor the team.
But for this old lion, winter is still a time to prowl. There are young women to date and a new challenge to take on to satisfy the competitive juices that never seem to stop flowing.
Buss sat down recently with ESPNLosAngeles.com to discuss his passions, old and new, his family and his first love in sports, the USC Trojans.