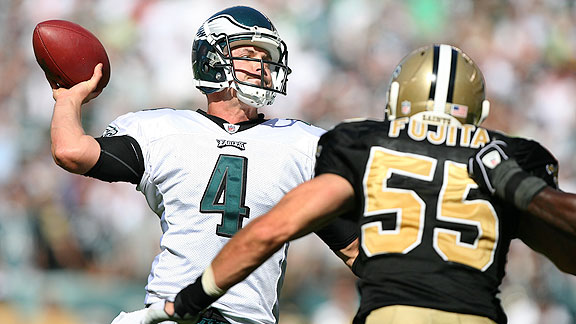 Hunter Martin/Getty Images
The Philadelphia Eagles are apparently on the cusp of trading Donovan McNabb, a move that makes a steep investment in former Houston Cougars QB Kevin Kolb. Kolb has played well in limited time with the Eagles, but he'll have to overcome a history of University of Houston quarterbacks who put up sparkling numbers in college but failed to deliver in the NFL.
Andre Ware, 1989 Heisman Trophy Winner
Ware became the first Houston Cougar and fifth player ever from the Southwest Conference to win the Heisman, in 1989. He did all this without playing a single game before a live national television camera because the Cougars were on probation. That season, Ware threw for 4,699 yards and 46 touchdowns -- and parlayed that into being the seventh overall pick by the Lions in the 1990 NFL draft.
Ware is widely regarded as one of the biggest flops in league history, starting only six games in four seasons with the Lions. Ware threw only five touchdown passes in his NFL career, and found himself out of the league by 1994. He also played in the CFL and NFL Europe.
David Klingler, sixth overall pick in 1992 NFL draft
Klingler threw 91 touchdown passes in 3 seasons as the Cougars' QB, including an absurd (then-FBS record) 54 in 1990. His 716 passing yards on Dec. 2, 1990, against Arizona State is still an FBS record. Klingler was the subject of folklore for the cannon attached to his upper torso: A Sports Illustrated article in 1991 told stories of his passes splitting open the hand of a defender his freshman year at Houston.
Klinger was picked sixth in the '92 draft by the Bengals. He subsequently became part of their '90s tradition of atrocious draft selections. Klingler spent four seasons in Cincinnati, going 4-20 as a starting quarterback. Among quarterbacks to throw 700 or more passes in the NFL since 1990, only three players have a lower passer rating: Chris Weinke, Danny Kanell and Rick Mirer. Klinger last played in the league with the Raiders in 1997.
Kolb threw for a Cougars-record 12,964 yards during his collegiate career, a school record that will probably be broken on the first possession of the Cougars' 2010 season by Case Keenum. Eagles fans certainly hope the team hasn't put its hopes on another Ware or Klingler.
Houston Cougars: Most Career Passing Yards
NAME
SEASONS
YARDS
Kevin Kolb
2003-06
12,964
Case Keenum
2007-09*
12,950
David Klingler
1988-91
9,430
Jason McKinley
1997-00
8,694
Andre Ware
1987-89
8,202
* 2010 will be senior season