Remember a few years back when the MLB honchos cracked down on Terry Francona's sweatshirt? They've now set their sights on another managerial wardrobe choice: Joe Maddon's hoodie.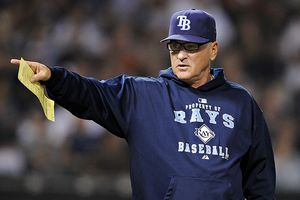 Ron Vesely/Getty Images
Some quick background: Maddon often wears a Rays hoodie for cool-weather games. If it's particularly cold out, he'll wear it under his dugout jacket, but he's often seen with the hoodie on full display. It's become part of his visual signature, much like his eyeglasses.
But no more. MLB has told Maddon that the hoodie must go. Makes you wonder what the current MLB regime would've done with managers like Connie Mack, Burt Shotton, and all the others who skippered in civvies back in the day. Then again, maybe there's something more sinister at work here, since the sweatshirt prohibitions have been aimed at the managers of the Yankees' two primary division rivals. Mere coincidence?
No word yet on whether Francona and Maddon will form a sweatshirt-suppression support group. If they do, Francona will probably tell Maddon that he'll be able to wear his cherished hoodie again eventually. After all, Francona was back in his sweatshirt just last week.