Happy 25th Birthday, New Coke!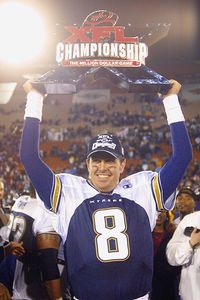 Scott Halleran/Allsport Tommy Maddox hoists the sweet championship trophy for the XFL -- the New Coke of sports leagues.
They set out to provide Pepsi in a red can. They ended up giving us so much more. Twenty-five years ago Friday, the product and brand management masterminds at Coca-Cola introduced New Coke -- a cola-formula-changing misstep so profound, so epochal, so mind-numbingly misguided that it quickly transcended the realm of mere marketing blunder and became something else entirely: a lasting, pitch-perfect, near-Shakespearean metaphor for colossal, foolhardy failure poured from a 12-ounce can of corporate hubris, sipped through a straw of not leaving well enough alone.
For that, I'm so very, very grateful.
As a writer, I'm paid to communicate; as a writer for Page 2, I'm paid to communicate via snarky pop culture analogies. And nothing -- not '80s sitcoms, not '90s basic cable movies, not even the past decade's "Survivor"-to-"Osbournes"-to-"American Idol"-to-"Jersey Shore" reality TV parade -- trumps New Coke.
Thank goodness. After all, Anna Kournikova is totally out-of-date. "Simpsons" references are decrepit next to nods to "Family Guy." Today's The Situation is tomorrow's William Hung. The years roll by; the new new thing changes; the older I get, the more I need stress-free, no-sweat comparisons that persist. And New Coke delivers. Stands the test of time. Just consider:
• New Coke of sports leagues: the XFL
• New Coke of sports broadcasting: the Olympic Triplecast
• New Coke of sports broadcasting technology: the glowing puck
• New Coke of rules changes: six fouls in the Big East
• New Coke of 1990s country music: Chris Gaines
• New Coke of 2000s pop music: that vaguely Bush-baiting Madonna album no one bought
• New Coke of sports uniform redesigns: Philadelphia 76ers, circa 2001
• New Coke of underage drinking: Zima
• New Coke of operating systems: Windows Vista
• New Coke of college hoops: 96-team tourney trial balloon
I could go on. But you get the point. That's nearly three decades of easy "X is like Y" gags. Off the top of my head. No Oxford Dictionary of Allusions required. (Thank goodness -- reaching my bookshelf requires me to, like, stand up).
Twenty-five years from now, New Coke likely will remain a business school case study in what not to do; with any luck, it also will persist as a lazy gag-penning staple. It's a pity Max Headroom isn't nearly as enduring.