Kevin Garnett's cuckoo-for-Cocoa-Puffs routine has grown stale. From the endless cursing to his tendency to unnecessarily put his hands on people, the youthful "Big Ticket" we grew to love has arguably turned into the belligerent uncle we hate to play in the driveway.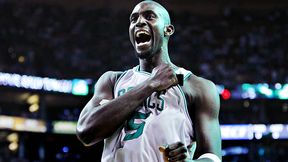 AP Photo/Charles Krupa
But please, KG, we're begging you -- please try that stuff with Ron Artest.
See, Garnett is perfectly aware of what he's doing. Were he not, he wouldn't have been so meek when Anthony Peeler chicken-winged his jaw in the 2004 playoffs. It's debatable whether Garnett considered a possible suspension, or if there was another reason he didn't want to fight Peeler. But he knew not to retaliate.
Does Ron Artest know what he's doing? I'm not so comfortable saying that.
Artest might laugh it off. There's a chance he'd start singing Michael Jackson's "Bad." Or maybe, just maybe, Artest would simply tell KG what he told now-teammate Kobe Bryant last year -- "Don't you know you're hitting Ron Artest?" I have no idea. More importantly, I have no idea if Ron-Ron has any idea.
But I sure would like to find out.