With the entire basketball world focused on the Lakers and Celtics, this is a weird time for NBA teams to be releasing a new logo -- unless they're secretly hoping the new designs will fly under the radar. Maybe that explains the new logos unveiled Tuesday by the Magic and Jazz.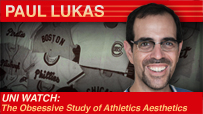 We'll start with the Magic, who've gone from funky to steamlined. Yeah, the new lettering matches their jersey insignia, but the jerseys are snoozeville -- who wants to match that? The whole point of a team name like "Magic" is razzle-dazzle, spectacle, the wow factor, but this lettering feels too corporate, too safe. This feels like the logo-design equivalent of a scrappy indie band that loses all its edge when it signs with a major label. Pfeh.
But that's nothing compared to what's going on with the Jazz. As you can see, they've changing their team colors -- so far, so good. But the redesign of the circular logo is largely moot, because they're also bringing back the franchise's old music note logo, which will be appearing on the court floor and also on a new uniform set that'll be unveiled in mid-August. So now a team with an incongruous name also has two incongruously unrelated logos, one of which hearkens back to the franchise's days in another city. Simple, right?
The obvious solution: The Jazz should switch team names with the Hornets. After all, Utah is the Beehive State.