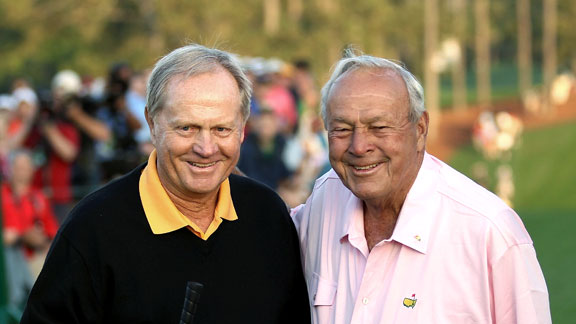 Streeter Lecka/Getty ImagesJack Nicklaus and Arnold Palmer have many great memories about the U.S. Open.
In celebration of this week's U.S. Open, here are 10 of the greatest quotes about the Open from my books, Golf Shorts and Golf Shorts, Par II.
Ten Great U.S. Open Quotes:
1. "Shoot a lower score than everybody else."
-- Ben Hogan, asked the secret of winning the U.S. Open
2. "Nobody wins the Open. It wins you."
-- Cary Middlecoff, on the U.S. Open
3. "If I had been able to beat that strong, young dude in the tournament, I might have held him off for another five years … I let the Bear out of the cage."
-- Arnold Palmer, on losing to Jack Nicklaus in the 1962 U.S. Open Playoff
4. "You not only have to be good, but you also have to have two horseshoes up your rear end. You've got to be lucky to win the U.S. Open."
-- Sam Snead
5. "A lot of zeroes, with the one number in front."
-- Lee Trevino, asked how much winning the 1968 U.S. Open meant to him
6. "Nobody ever wins an Open. Everybody else just loses it."
-- Bobby Jone
s
7. "You can't win the Open on Thursday and Friday, but you can lose it."
-- Jack Nicklaus
8. "It takes courage to win the U.S. Open, more courage than it takes for any other tournament."
-- Tom Watson
9. "Did he play every hole?"
-- Bobby Locke, after Ben Hogan shot a final round 67 on the last day of the 1951 U.S. Open
10. "There are more bogeys in the last nine holes of the U.S. Open than in any other tournament in God's creation."
-- Raymond Floyd
To read more sports quotes, check it out here.