Weezer lead singer Rivers Cuomo is an avid soccer fan and has written what he calls an anthem for the U.S. men's national team in the World Cup, called "Represent."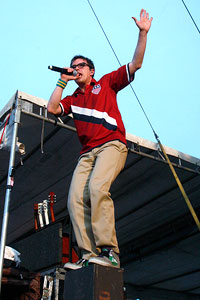 AP Photo/Jeff ChristensenRivers Cuomo rocks out in a U.S. soccer jersey at Bonnaroo 2010.
U.S. Soccer responded on Twitter that the team added the song to its pregame playlist before the match against England, and the lovefest between the two was on.
The video debuted on Wednesday, so Page 2 perused Weezer's discography to find anthems for other World Cup teams:
"Say It Ain't So"
Spain's loss to Switzerland has it looking up at Chile in the Group H standings.
"Only in Dreams"
Uruguay went undefeated in group play and didn't allow a goal in the process.
"Why Bother?"
North Korea, in its first trip to the World Cup since 1966, lost 7-0 to Portugal on Monday.
"Knock-down Drag-out"
French star Thierry Henry has asked for (and will receive) a meeting with French president Nicolas Sarkozy to discuss the team's disastrous results.
"This Is Such A Pity"
England has disappointed and Wayne Rooney has lashed out at fans who have turned on them.
Check out the video for "Represent" below.