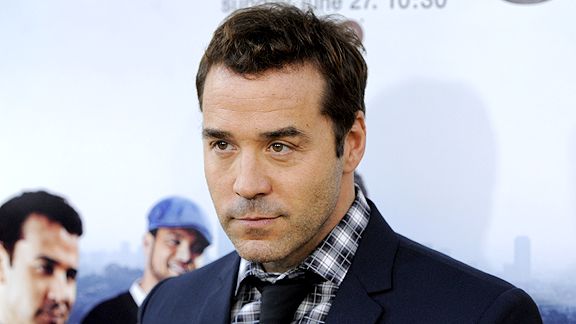 AP Photo/Chris PizzelloJeremy Piven said this is the last season of 'Entourage' as the cast prepares for a feature-length film.
Could it be? Is Ari Gold fed up with Hollywood and ready to conquer the world of NFL?
In the first few episodes of the new season of HBO's hit series "Entourage," Gold (played by fast-talking Jeremy Piven) is courted by Dallas Cowboys team owner and General Manager Jerry Jones (who plays himself, of course) to be a new GM for a team in Los Angeles.
It's actually a case of art imitating life in some respects, given that there's this current push to get a team in the city of Angels.
Of course this is drama and comedy all mixed in with one, so expect this season -- possibly the last before a movie version of the popular TV series gets produced -- to be filled with it. For starters, Gold's drive to get the NFL team in Los Angeles will bring trouble about in his marriage.
"Ari Gold loves his family more than anything in the world, but he's in jeopardy of losing it," said Piven about the show that begins its new season Sunday on HBO. "He just wants to try to run a sports team. He just has an insatiable appetite for power and money, and he will be brought to his knees."
Sounds like his character is going to go out with a bang.
"People always come to me and say the episodes are not long enough, so this will be the chance for people to see two hours of 'Entourage', which will be really great, and I really look forward to it," Piven said the potential of a movie. "I think Ari needs a feature film. Ari Gold is too big for TV, too big for the small screen!"