NASHVILLE, Tenn. -- Tennessee Titans quarterback Kerry Collins looks every bit of his 37 years of age after 15 seasons in the NFL. His hair is equal parts graying and thinning. His face is weathered. His blue eyes show the toll of a life lived hard.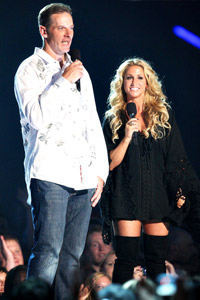 Jason Merritt/Getty ImagesKerry Collins hangs with singer Heidi Newfield at the 2009 CMT Music Awards.
He has been waived, cut or released by four teams. He has battled alcoholism and been accused of racism.
His life sounds like a country music song, which is a coincidence -- because Collins is just about ready to stop taking hits and start writing them.
"So many thrills in my life have come from football," Collins said. "To accomplish something that's so completely different and so outside of football would be just unbelievable for me."
Collins is hardly an established songwriter, but his work is taken seriously along Nashville's famed Music Row. One of the songs he has written was put on a "hold" by George Strait before the country music legend ultimately passed on it.
"It was a real thrill to get one on hold with him," Collins said. "It was disappointing, sure, when he passed. He's one of my favorite artists ever. But at the same time, I was encouraged because I felt like I was on the right track."
Collins, who has played for the Titans since 2006 and is entering the final year of his contract with the team, recently bought a building on Music Row and started his own company.
"Right now I'm the only writer signed there," he joked. "Down the line, I'd like to sign some more writers and maybe look into some artist development."