Know Admiral Ackbar from General Grevious?
You're probably a Star Wars fan.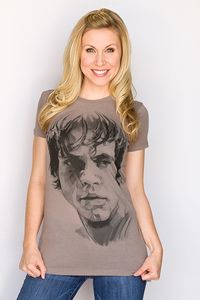 Courtesy of Ashley EcksteinAshley Eckstein shows off one of her shirts she created to celebrate her love of Star Wars.
Able to debate Albert Pujols versus Derek Jeter?
You're likely a baseball geek.
Fluent in both topics? Then you have something in common with Ashley Eckstein. The wife of San Diego Padres infielder David Eckstein, Ashley also is the voice of Ahsoka Tano on "Star Wars: The Clone Wars" and the founder of Her Universe, a company that makes Star Wars-themed clothing for women.
Page 2 recently caught up with Eckstein to discuss the Padres, the Force and everything in between:
Between Star Wars and baseball fans, you bridge two obsessive communities. What, if anything, do they have in common?
[Laughs] It's funny. I've found that Star Wars fans, once they find out who my husband is, they jump on the Padres bandwagon. Even if they don't understand the sport, the community embraces David. And David's teammates -- I don't know if you've seen the pictures going around, but the Padres actually bring Yoda and Chewbacca into the bullpen every day.
Wait -- are there Star Wars fans on the Padres?
There are several! In the clubhouse, David was walking past Scott Hairston's locker and saw a mini plush Yoda. Scott loves Yoda, so David asked me to get him as many Yoda items as I could find. I got him a T-shirt with a Yoda quote on it, "Try not. Do or do not. There is no try." It really represents the attitude the team has and David's attitude toward baseball. Another item was a Yoda backpack. The rookies carry the backpacks to the bullpen. It used to be a Dora the Explorer backpack. I bought a Yoda pack and showed it to Heath Bell. He loved it and gave it to our bullpen rookie, Ryan Webb.