Sharks are an occupational hazard for Chris Lieto.
As the top U.S. triathlete, he spends a fair amount of time training in open water and is aware of the danger. He's seen small ones before while swimming and even had to cancel practice when he noticed a more sizeable one.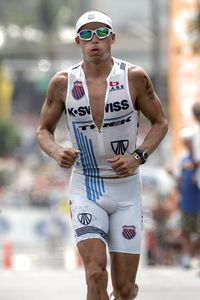 AP Photo/Chris StewartChris Lieto is one of the nation's top triathletes and is preparing for the next Ironman.
When it comes to competitions though, he has a foolproof strategy for avoiding encounters.
"You're in the water with almost 2,000 people," Lieto said. "As long as you're not the slowest one, you're OK."
Lieto never has that problem. Since he started competing 12 years ago, he's won three of the grueling 140.6-mile races. Each Ironman consists of a 2.4-mile swim, a 112-mile bike ride and a marathon.
He's back in training for October's Ironman World Championships in Hawai. Last year, Lieto finished second. "It definitely killed me," he said about losing the lead.
If Lieto didn't have enough motivation this time around, he had some help from Lance Armstrong. The two have become friends through cycling and shared sponsors. In February, while they were both in Hawaii, Armstrong threw down the gauntlet, challenging Lieto on Twitter to a time trial race.
"I wasn't looking forward to it, but when you get Twittered out to 3 million people you can't say no," said Lieto, who lost to Armstrong by just nine seconds.
Now Lieto is back training in California. He says his running has improved and goes on 2-3 hour runs up to elevations of 10,000 feet. Lieto also has been biking upwards of 6 hours a day, and using the TRX Suspension Training system to help build muscle.
"The bar keeps getting raised, so it's not going to get any easier because I finished second last year," Lieto said. "But I definitely have the ability to take home the win."