WALLA WALLA, Wash. -- The cut-out panel for the ninth inning on the hand-operated wood scoreboard at Borleske Stadium leaves a frame little more than a foot wide and two feet high. But that's big enough for me to peer through and see a field of dreams so vivid James Earl Jones would get laryngitis describing them all.
This fertile region grows everything from wheat to grapes to onions, and pretty much everyone is planting their own dreams here, hoping they'll take root. The general manager sitting behind home plate dreams of running a major league team. The young man in the play-by-play booth dreams of calling games for a top pro team or a big Division I school. The enology and viticulture student running the concessions dreams of operating a world-class winery. Even Sweet Lou, the giant onion mascot, is dreaming up routines for next season.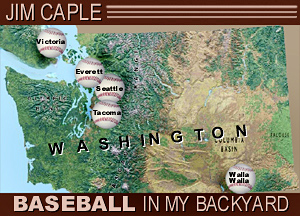 Baseball provides myriad jobs and careers, some lifelong, some as temporary as a winning streak, some obscenely high-paying, others far more modest. When I ask the scoreboard operators how much money they're earning, they respond that it's probably "about minimum wage." I'm not sure whether that means they don't know or they simply don't care because they enjoy the job. "It's awesome. I love this so much," Ty Hafen says while gazing through the vacant ninth-inning panel. "There's no better summer job than this."
Of course not. His office is a scoreboard in a ballpark. Outside of baseball, who else goes to work in a park? Yes, forest rangers, but they have to worry about angry grizzly bears mauling them. That's not much of a risk in baseball, especially with Lou Piniella retiring after the season.
"This summer has been nothing but happiness," says Walla Walla pitcher Brian Biagi. "You eat good. You relax during the day, get a routine going, come to the ballpark, run around and chase balls during batting practice and you're just happy. There's something wrong with you if you're not happy out here."
Follow Jim Caple's "Baseball in My Backyard" series this week as he documents the baseball dream in collegiate summer ball, the independent leagues, short-season Single-A, Triple-A and the major leagues.