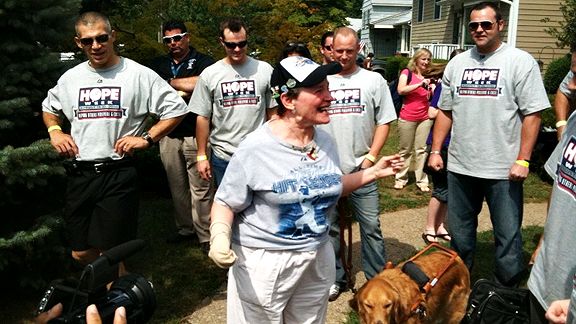 George Lenker/ESPN Jane Lang, who is blind, is one of the New York Yankees' biggest fans. During Hope Week, manager Joe Girardi (left) and pitchers David Robertson, Chad Gaudin and Joba Chamberlain escorted her on her two-hour trip to the park.
Ask yourself whether you'd do this: Leave home. Walk 20 minutes to the train station. Take a 70-minute train ride to Penn Station in New York City. Weave for 10 minutes over to the subway station. Take a half-hour D train ride to Yankee Stadium. Navigate the vendors and chaos to get to your seat.
Now ask yourself: Would you do all that blind?
Jane Lang does it, accompanied at most games by only her Seeing Eye golden retriever, Clipper. Thirty times a year. At 67 years old.
Which is why she was so gobsmacked Tuesday when she set out from her home in Morris Plains, N.J., only to find Yankees manager Joe Girardi and four current and former Yankees waiting on her doorstep.
They didn't have a limo. They didn't have a fleet of Suburbans. They had only sneakers. They were going to make the journey with her.
"Oh my God!" Jane said.
"We think you're amazing," Girardi said.
"Follow me," Clipper seemed to say.
You have to understand what a two-hour, one-way journey to a baseball game takes for somebody like Jane. She's been blind since birth, and these trips have not always turned out well. Once, some kids decided it would be fun to spin her around a few dozen times. Another time, she fell onto the subway tracks and was nearly killed. But ever since she got a guide dog, she's been intrepid.
The whole bizarre troupe: Jane, Clipper, the Yankees, their security guys, the PR men and the media -- paraded past the florist, Tony's pizza parlor and the little barbershop where one of the customers came out to wave and holler at Jane with the apron still around his neck.