Saturday night in Boston, MMA legend Randy Couture will battle former boxing champion James Toney in the co-main event of UFC 118. In the other headliner, Frankie Edgar will defend against BJ Penn the lightweight title he wrested from Penn via decision at UFC 112 in April.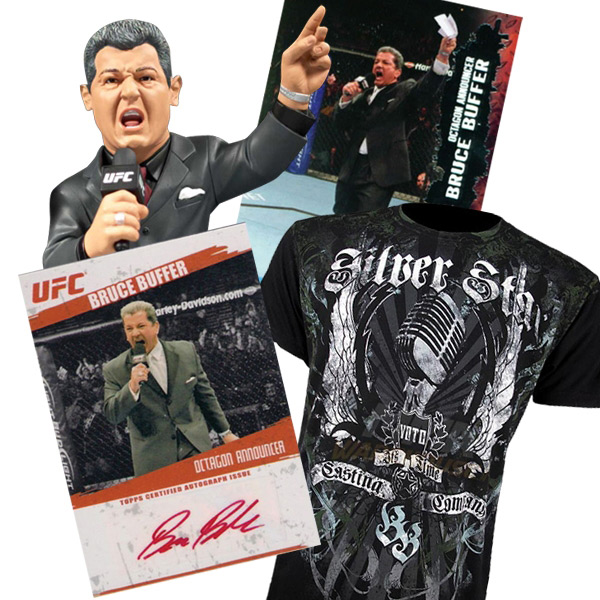 Courtesy of Beckett MediaBruce Buffer is everywhere these days. Trading cards. Figurines. Autographs. It's Time!
It should be noted, however, that no one will fight anybody until Bruce Buffer says so. More precisely, no one will fight anybody until Buffer excitedly booms "It's Time!"
It's preceded the most meaningful main events in the history of mixed martial arts and the fascinatingly multifaceted force responsible for its impeccable delivery is nothing less than modern-day renaissance man.
He's a motivational speaker. A business manager. A veteran martial arts practitioner. A show promoter. A successful part-time professional poker player. A comedic thespian. An astute collector of authentic World War II militaria and original movie posters from the golden age of cinema. He's the grandson of 1930s boxing champion Johnny Buff.
Still, it's Buffer's scintillating, scene-setting work in the Octagon that has made him collectible himself. He can wear his own signature Silver Star T-shirt while cataloging his 18 different trading cards (average value: $23) as he's playing the videogame that bears his rafters-raising introductions. And on Friday at the UFC Fan Expo in Boston, he got the first glimpses of the Round 5 Bruce Buffer figurine.
Long before the "Veteran Voice of the Octagon" became the UFC's every-event ring announcer at UFC 13 -- and as such, a uniquely integral part of the whole experience -- he was managing the career of Michael Buffer, his pioneering older half-brother.
In this exclusive interview, Buffer verbally spars with such hard-hitting questions as what it's like appearing on his own action figure and fighting his famous older brother.
What does it mean to you to be appearing on your own trading cards and figures?
"It's a childhood dream come true. Collecting Topps trading cards when I was a kid, or playing video games when I was younger and suddenly seeing myself on Topps trading cards and videogames … it's a complete honor. On the action figure by Round 5, not to coin a pun, but it kind of rounds everything out. It's amazing.