As the San Diego Chargers edge closer to their Monday night opener at Kansas City, we're not sure that Shawne Merriman will play. But we do know one thing for certain: The linebacker is into fantasy football.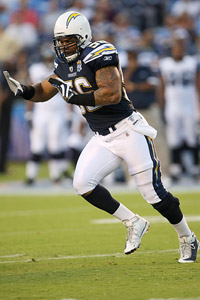 Stephen Dunn/Getty ImagesChargers fans would prefer to see linebacker Shawne Merriman in uniform, rather than on HBO.
Merriman, who may not play much (or at all) against the Chiefs because of an Achilles' problem, has gotten more attention these days for the things he does off a football field. He made a cameo on HBO's "Entourage," showing up at an Ari Gold meeting about bringing an NFL team to Los Angeles and saying, "Hey, I'm a free agent this year, thought I'd sit in."
Merriman should have held out for a better line, so Page 2 is offering some suggestions:
"Hey, anybody see my game?" After storming into the league with 39.5 sacks in his first three seasons, Merriman has just four in his past two and has been hobbled by injuries. He played just one game in 2008 and last season had just four sacks in 14 games.
"Hey, I just thought I'd come up for tequila." Yeah, that's Tila Tequila. And wasn't it apropos that the "Entourage" episode was titled "Tequila Sunrise?" Coincidence? We think not.
"Hey, Maurice Jones-Drew isn't here, is he?" Merriman still has to live with the footage of the Jaguars' mighty mite putting No. 56 on his butt in a 2007 game.
"Hey, I just want to be on a show where they can build around me." During his recent negotiations with the Chargers, Merriman said, "I want to be on a team where someone is building a defense around me." Hard for the Bolts to do when he's holding out, hurt or ineffective.
"Hey, can I tweet from here?" He may have had injuries, but Merriman has Cal Ripken-like thumbs. They're durable. The man can tweet.