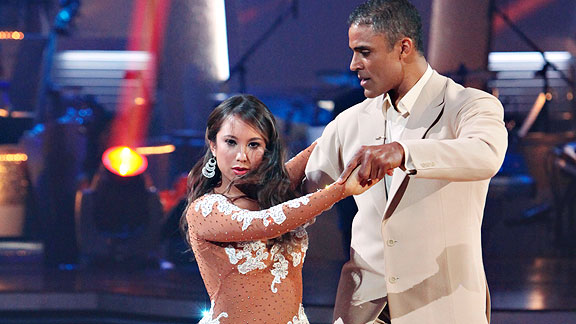 Adam Larkey/ABC
One of the biggest surprise in ABC's "Dancing with the Stars" is that former NBA player Rick Fox and partner Cheryl Burke have danced so well, despite their huge difference in height. He's 6-foot-7 and she's 5-foot-4.
"Every week is a new experience. It's been a lot of fun and we have a lot of excitement doing the live performances," said Fox, who scored a 21 out of 30 on Monday's show. "We also love hanging with the other cast members and listening to their stories. It's been a memorable journey."
For Fox's ex-wife, Vanessa Williams, she's not surprised how well he's doing.
"Look at his partner. She's phenomenal. She looks fantastic and has worked really hard with athletes before," said Williams, who was married to Fox from 1999-2004 and joined the cast of ABC's "Desperate Housewives" this fall. "I have no idea whether Rick has any real skills. I haven't ballroom danced with him before. The only time we danced was on our wedding day."
On Monday's show, the best duos were: Jennifer Grey/Derek Hough (24), Audrina Patridge/Tony Dovolani (23); and Bristol Palin/Mark Ballas (22) and Kyle Massey/Lacey Schwimmer (22).
Watch for Michael Bolton to be given the boot on Tuesday. He and partner Chelsie Hightower scored a 12. Yes, a 12. That's the third-lowest score in the show's history. (The lowest score ever was Master P's 8 in Season 2.)
Don't expect Fox and Burke to ever score so poorly. Burke captured the first two seasons, winning with Drew Lachey and Emmitt Smith. And she's turned Fox into a swan.
"She's just like all the coaches I've had," said Fox, who played 13 seasons in the NBA. "She is great. She's proven it over the years. She knows how to instruct. She knows how to get the best of her partner."