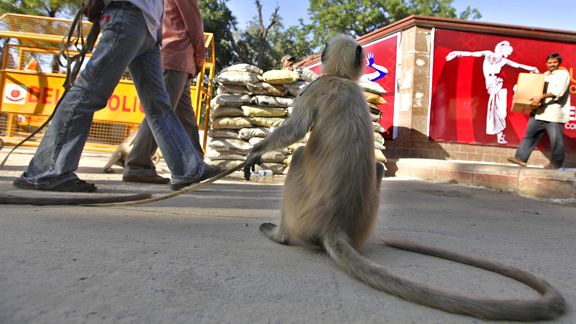 AP Photo/Saurabh DasTrained langur monkeys will be deployed outside venues to keep wild monkeys away.
Snakes in the stadium, monkey militias, a mosquito outbreak and of course, vuvuzelas. No, it's not the sign of some impending apocalypse or a scene from "The Jungle Book".
It's actually just some of the experiences that will greet visitors and athletes at the Commonwealth Games, which runs Oct. 3 to Oct. 14 in India. The event, like the Olympics, is a multi-sport extravaganza every four years featuring more than 70 countries and thousands of athletes. And the Games have brought controversy.
India, a country where more than 800 million people survive at less than $2 a day, has already spent $7.6 billion in renovating roads, creating infrastructure and building a new airport terminal. Compare that to the estimated $1 billion that Melbourne, Australia, spent in 2006 when it hosted the Commonwealth Games.
Even with such a high price tag, the results have been a fiasco. Government officials are rushing to make last-minute fixes which include posting 100,000 security guards and also adding 38 Hanuman langur monkeys to guard venues. Delhi has had a history of smaller, wild monkeys terrorizing visitors so they've brought in the larger langur to scare away their fellow simians.
Even so, the biggest threat to the Commonwealth Games won't be terrorism, wild animals or inept infrastructure. It will be the deafening buzz of the vuvuzelas. They're selling for 250 rupees ($5.50).