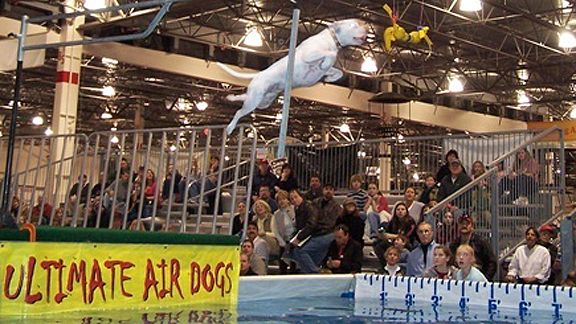 Courtesy of Ultimate Air DogsDigger makes a big leap as part of the Ultimate Air Dogs, run by former Tiger Milt Wilcox.
Milt Wilcox may be 60 years old, but he still doesn't see himself growing up anytime soon.
"I'm still going to stay young my whole life," the former major-league baseball pitcher said. "Sometimes people will say, 'When are you going to grow up and be responsible?' Well I don't want to. I want to stay young and have fun."
After a 16-year career that included a 1984 World Series ring with the Detroit Tigers, Wilcox now owns and operates Ultimate Air Dogs, one of the nation's premier dock jumping organizations. On the surface, his new profession is a far cry from the days of whipping fastballs at helpless hitters. But Wilcox knows the truth: Training dogs to leap into a pool is exactly like playing baseball. It's work, sure, but at the end of the day, Wilcox wouldn't want to do anything else.
"I make money by playing again," he said. "Baseball was work because there was a lot that went into preparing to pitch in a game, but it wasn't work because it was just fun, and the end result is the same with dock jumping. After the all the miles I travel, I have fun with my dogs and with other people, and that's what it's all about."
While Wilcox had dogs as a child, he never owned one due to the demanding travel schedule of pro baseball. But when he retired in 1986, the eternal animal-lover jumped at the chance to get his own black Labrador. The dog's name? Sparky Anderson Wilcox, after the former manager whom Wilcox played under for two seasons.
Sparky eventually became one of the top dock jumping dogs in the country, which drove Wilcox to start Ultimate Air Dogs. When Ultimate Air first started, as few as five dogs competed in the shows. Now, Wilcox, who doubles as the MC of the events, says as many 120 dogs attend the competitions.
Wilcox's demanding schedule takes him across the United States, hosting shows in South Florida, Indianapolis and New Jersey, just to name a few. This weekend, he'll be at the Connecticut Pet Show in Harford before heading to Missouri for the United Kennel Club Gateway Nationals. While the constant travel harkens back to the 21-day road trips endured while in the big leagues, the opportunity to have fun and build a community surpasses all else.
"I played in a time when we made good money, but not enough to retire on, so you go out and try to find things that put a few dollars in your pocket and have some fun while you're doing it," Wilcox said. "We travel over 3,000 miles in 10 days, but the results are that you have a great time. It pulls us closer together as an organization, and that's the way I want to do things."