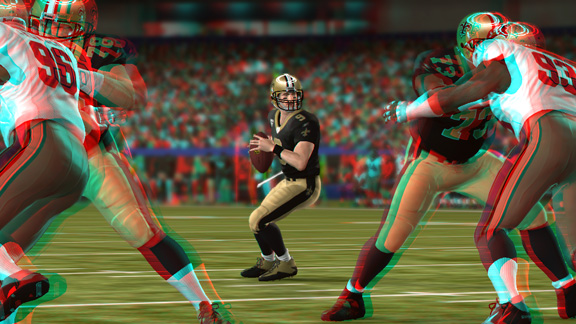 EA Sports"Madden NFL 11" is now in 3-D thanks to a partnership between EA Sports and Doritos.
Think you've seen everything there is to see in "Madden NFL 11"?
Time to rub your eyes and take another look, only this time you need to throw on a pair of glasses with red and cyan lenses.
That's right, "Madden 11" is going 3-D.
Thanks to the ongoing partnership between EA Sports and Doritos, gamers can head to stores and pick up specially branded "Madden" 3-D bags of chips. Each bag has a unique code that consumers can input on the website Doritoschangethegame.com. Once the code is entered and the gaming platform is selected (Xbox 360 or PlayStation 3), the system generates a Doritos 3-D code that unlocks the mode in "Madden 11."
The special bags of Doritos hit stores Monday, and exclusive "Madden" 3-D glasses will be inserted inside ESPN The Magazine when the latest issue arrives in stores Nov. 5. (However, any pair of traditional 3-D glasses with red and cyan lenses will work to view the game in 3-D.)
"I can't believe we were able to keep this a secret for so long," said Chris Erb, senior director of partnership marketing for EA Sports. "We were expecting someone to find this early.
"But we wanted to add something into the game that was relevant, something that people are talking about, but at the same time we wanted to make the 3-D accessible to everyone. You don't need a 3-D TV. You don't need expensive glasses. So we partnered with Doritos to figure out the right way to make that happen, and I think it looks great. It adds layering to what we already have. You can toggle it on or off, and I think the cool thing about it is that it's the entire game in 3-D, so I think people will find different things to enjoy about it, from the weather to the stadium effects to the passing game. I'm excited to play a bunch of games in Seattle in the snow and see that stadium with the weather effects."