In this constantly evolving age of social media, no event of record is going on without citizen documentation.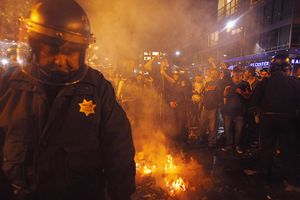 Stephen Lam/Getty ImagesSan Francisco police officers look to contain a small fire as Giants fans celebrate the team's World Series victory outside AT&T Park.
Not even riots in the streets of San Francisco.
Yes, it's true: After the San Francisco Giants finished off the Texas Rangers in the World Series on Monday, fans took to the Mission District of San Francisco -- and social media was there every step of the way.
The #SFriot hashtag on Twitter became a trending topic and was littered with citizen journalism. And those listening along to the chaos on the San Francisco police scanner were poking in with updates via the #SFscanner hashtag.
"We have a man out of his mind here, no shirt, baggy blue jeans. He's a white male with scruffy beard and a plastic samurai sword," transcribed one tweeter who was following along on the scanner.
Others commented on a taxi that was carjacked and made its way up to 90 mph shortly thereafter.