Trash talking -- immature behavior, verbal art form or a little bit of both?
And whom are the all-time greatest trash talkers in sports? That's our question for you to answer this week by sending your pick -- along with a brief sample of his best work -- to me at osogreene@aol.com. As usual, please include your first name, initial of your last name and your location.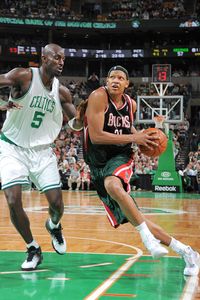 Brian Babineau/Getty ImagesKevin Garnett and Charlie Villanueva's trash-talking escalated to the interwebs.
We're thinking about this because of last week's brew-hah-hah between Charlie Villanueva of the Detroit Pistons and Kevin Garnett of the Boston Celtics.
Garnett makes a point out of not using Twitter but that didn't stop Villanueva, who tweeted that Garnett had crossed the trash-talking line of fair play by calling him a "cancer patient." Garnett denied the accusation, saying he has simply called Villanueva "a cancer" on his team.
See how sophisticated trash talking can be?
We're talking all-time and all sports. Don't forget boxing, for sure. Pro baseball, pro football, NASCAR and everything else, so there is a lot of trash talking to choose from. How about coaches along with athletes? And are there any women that deserve nominating, especially if we count trash talking a line judge?
MMA fans, you got any examples? Does pro wrestling count? That's up to you.
We need to know. Whom are the Top Ten All-Time Greatest Trash Talkers in Sports? Once again, send your picks with brief examples (that are clean enough to print) to osogreene@aol.com with your first name, initial of your last name and your location.
You have until noon Wednesday and look for the list here Thursday.