There's always been a fairly strong "Hate Miami" sentiment. And it's gotten stronger since LeBron James made "The Decision" to join the Miami Heat.
But two native sons have taken exception to that trend.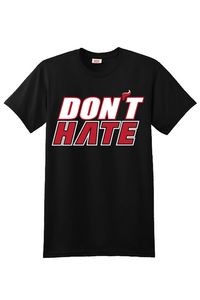 donthatemiami.com A Heat-inspired "Don't Hate Miami" T-shirt.
Jaike Hornreich and Deniz Gungor -- twentysomething entrepreneurial childhood friends -- resent the hate aimed at their beloved city. And they knew the animosity would escalate with James' move.
But instead of sitting by idly and watching it happen, Hornreich and Gungor decided to buck up and defend Miami in a venture they hope will become a moneymaker. If nothing else, it's already a social media hit.
That's how the website donthatemiami.com was born. It's a place where fellow Miamians can commiserate as well as report on any new Miami or LeBron jabs. The website also has a Facebook page and more than 2,200 people have already "liked" it.
Don't Hate Miami also sells T-shirts -- they're not officially licensed, but inspired by the Miami Heat. One shirt has "Don't Hate" emblazoned on the front and is their flagship tee. The other shirt says "Shut Your Mouth" with the hand sign indicating that sentiment printed on both shoulders.
"We started the website the day after LeBron signed with the Miami Heat," Hornreich said. "We came up with the idea and knew it would be something profitable. We know how much everybody hates on Miami in general. Now that we have LeBron there's much more hate coming our way."
Gungor confirmed his partner's take on their new business: "We knew that the city of Miami would be under the microscope right away. Most of it wasn't very positive and we couldn't just sit there and watch our city get bashed. So we started out as protection for Miami, where people could gather and talk about how we're not that bad."