What with so much going on, it's hard for a sports fan to be able to take five minutes to learn about the latest holiday movies. Of course, they're all about sports. Take our word for it. So here's a little primer about what the plot lines could be. Pick the one you like. You may be right (but don't bet on it):
"127 Hours"
The story of just one baseball playoff game this season;
A 100-meter race between Peyton Manning and Philip Rivers;
The 2010 college bowl season.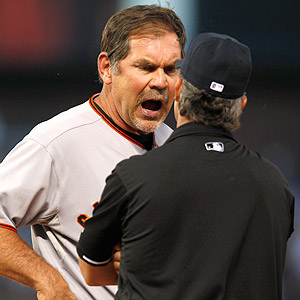 AP Photo/David ZalubowskiBruce Bochy's cranium is substantial.
"Megamind"
Inside the giant (really, it's huge) skull of Giants manager Bruce Bochy;
On the genius of the Eagles to sign Michael Vick;
The title of Bill Belichick's autobiography.
"Unstoppable"
The Red Sox go to the winter meetings;
Ndamukong Suh gets his hands on somebody. Anybody;
Kevin Durant and Russell Westbrook in the open court.
"Tangled"
Cam Newton's dad tries to help his son find a college;
Brett Favre trips over his long, gray beard.
The story of the BCS ... every ... single ... year.
"Faster"
Michigan QB Denard Robinson gets into the secondary;
Oregon's quack attack offense in full flight;
Phillies dash in, snatch Cliff Lee from Yanks and Rangers.