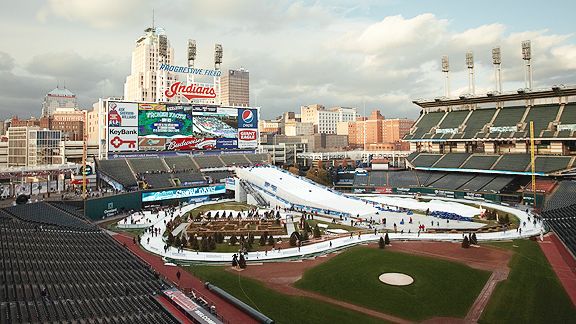 Dan Mendlik/Cleveland Indians If you're in the Cleveland area, you can check out the snow paradise inside the baseball stadium.
Cleveland Indians Progressive Field is a bit of a jarring site to take in when you first walk inside this winter. It looks somewhat like your crazy neighbor with the over-decorated Christmas house took over the stadium. The decorations are a tad overdone or perhaps it's that there's not quite enough. It is certainly no theme park, but it is undeniably charming and soon you realize it could be the most fun Cleveland's had since LeBron was there.
"The last time we really had a significant non-baseball event here was the Jimmy Buffet concert back in 1994," senior director of merchandising Kurt Schloss said. "It's very memorable for people when they're down here for a baseball game but how do we drive them back down to Cleveland when baseball isn't around?"
Welcome to the Indians Snow Days.
A snow machine blows snowballs at anxious youngsters and a quarter-mile long 16-feet-wide ice skating track borders the field. Dubbed "The Frozen Mile" it was built by the same company who created the track for the Vancouver Olympics, and is the first ice track in the US. Then there's the main attraction, the Batterhorn, where fans race in tubes down a 10-lane-wide ice luge that's been built into the stadium bleachers.
Sure, there are a few dispensable attractions, like a maze made from haystacks, but the most memorable feature isn't an attraction at all: it's the Indian's home dugout. It's heated, open to the public and for many fans this might be the first and only time they'll have the opportunity to sit where Grady Sizemore, Carlos Santana and Travis Hafner sit at games.
The idea began back in 2009 and after focus groups, meetings and scouting out other stadium's off-season events including the Winter Classic in Boston's Fenway Park, the idea for Snow Days emerged. Aside from driving people back to the stadium and downtown area that is for the most part dead in the off-season, the Indians hope the event will help boost ticket sales.
"We really think that the long-term affects of having an event like this will be more interest in the Indians organization as a whole," Schloss explained. "The goal is to have younger generations say, gosh I remember going down to Indians Snow Days, why don't we go down and see a baseball game?"
Snow Days runs until Jan. 2. For more information click here.