Denver Broncos quarterback Tim Tebow may have started his first game last Sunday, but he made his debut on a football card a long, long time ago.
The former Florida Gator and Heisman Trophy winner already appears on a total of 690 football cards that can be found in the Beckett.com database, a number that will undoubtedly be growing as season winds down and additional 2010 football sets arrive. (The football card season doesn't end until the spring.)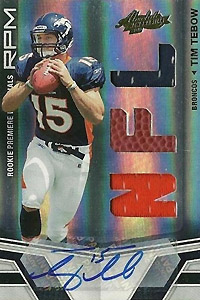 Courtesy of PaniniAs Tim Tebow gets more playing time, he likely will have more trading cards.
First, the basics …
One, Tebow appears on 230 different cards that have his authentic signature also on them -- what's known as a certified autograph because it was signed for a trading card company and placed into packs.
Two, Tebow appears on 326 different memorabilia cards -- cards that have a small piece of fabric or patch from a jersey he wore embedded into the card. They're either a Gators jersey or one of many Broncos jerseys he wore for Topps or Panini America at the NFL Players Rookie Premiere earlier this year in Los Angeles. It's at that shoot where many top rookies pose for their first card photos and sign some of their first autographs for NFL cards.
Three, Tebow has 25 rookie cards. By definition those typically are (but not always) the cards in a regular set without an autograph or memorabilia piece. That's a number that, like the other stats here, can dwarf big-name players from the past. Most players whose debuts came before 1989 have just one rookie card.
How does Tebow compare to John Elway? Elway signed 747 different autograph cards during his career and the years since. Knowing how popular Tebow is, the rookie will probably pass him there in 2011. Elway still has a good lead in the total card count though, with 5,272.
Kyle Orton, who Tebow replaced Sunday, has just 990 total cards since 2004. With Tebow exactly 300 behind, Orton will be No. 2 next season … and we're not talking about the Broncos' depth chart. (Tebow already has passed Orton's 212 autographs.)
Danny Wuerffel may have been a legend in Florida, but his short NFL stint meant just 393 cards -- just 34 of those being autographs. And Steve Spurrier? He's got just 154 cards -- 36 of those autographs -- and many of these are from his years wearing a visor.
As for some memorable NFL players, Tebow does trail Joe Namath's 1,568 total football cards, Joe Montana's 3,426 and even Brett Favre's 12,820. But they all had substantial head starts.
Knowing the fanaticism of Tebow's supporters, though, the rookie just might catch up fast.