Golfers longing to play Augusta National will get their opportunity this spring -- through an EA Sports video game.
Officials at the storied Georgia golf course, home to the annual Masters Tournament, announced Tuesday that Augusta National is joining forces with EA Sports to be part of its 2012 installment of the Tiger Woods PGA Tour golf game franchise.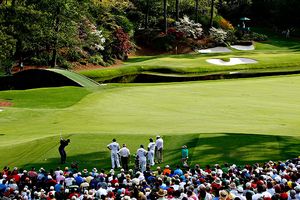 Jamie Squire/Getty ImagesYou'll finally get your chance to play Amen Corner -- on your console.
The game will go on sale March 29, just a few weeks before the 75th playing of the Masters, and allow participants to "play" the Augusta National course by "qualifying" for and attempting to win the Masters. It will be available on Wii, Xbox 360 and PlayStation consoles.
Features in the Masters edition include a chance to beat each of Woods' four scores when he won the green jacket and advice from an Augusta caddie. It also will include announcing from Jim Nantz and David Feherty of CBS Sports.
"There are many new and unique elements in the game that will make everyone feel like they're really competing at Augusta National," Woods said in a statement. "This is great for the sport and will connect a new audience with the Masters, a tournament I've been fortunate to experience since 1995.