Brett Longdin is an ESPN.com blog editor based in Wisconsin who on Jan. 9 completed the Walt Disney World Marathon, his first attempt at the 26.2-mile distance. Longdin turned to running in June 2009 to assist in his weight loss. Sixty pounds lighter, Longdin entered races of a variety of distances -- 5K, 10K, half marathon -- before spending 17 weeks training for his marathon debut. Below is a glimpse at what he went through on Sunday.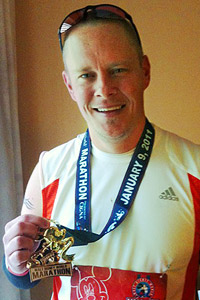 Brett Longin/ESPN.comBrett Longdin talks about competing in the Disney marathon.
Where do I start? Seventeen weeks of dedicated training, including countless miles in the snow, on icy paths and in sub-freezing temps brought me to the starting line Sunday for my marathon debut. (This is long; consider yourself warned.)
The alarm woke us up at 3 a.m. so we could board the shuttle to take us to Epcot for the 5:40 a.m. start. I slept surprisingly well the night before; probably because of the 3 a.m. wake-up call the previous morning to go watch Matthew L. and Jonathan H. run in the half-marathon.
Left our resort at 3:30 and arrived at Epcot around 4. After Dan J. and I said our goodbyes to Matt and his wife, Sarah, we made the long, slow, chilly stroll to the starting corrals, where we needed to be by 5 a.m. We were told it would take 20 minutes to get there, but that was pretty optimistic. Just picture a herd of cattle 17,000 strong being ushered in the same direction.
We arrived at our corral about 25 minutes or so before the start. After hopping a mesh fence for one final pit stop and a warm-up jog, we returned to the corral where we shed our warmer clothing.