They were probably the biggest hands ever to hold a biathlon rifle.
They were Scottie Pippen's, and in their grip, the three-foot-long weapon looked more like a pistol as a dozen reporters and dignitaries looked on.
Pippen was in the northern Maine town of Fort Kent last weekend to watch a pair of World Cup biathlon races, which combine cross-country skiing and shooting.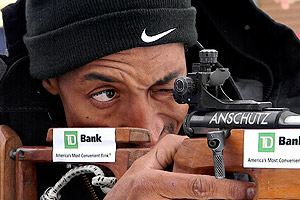 Peter Q. GravesScottie Pippen fared pretty well at the shooting half of the biathlon but wasn't up for the skiing part.
Afterward, he had ambled out to point number 27 on the rifle range, where he was handed a modified .22.
"Y'all get back!" he said, waving away some overzealous photographers.
Then he fired off five rounds. The first was way off; the rest were closer, but still not that close.
"I need another clip," he said.
No, this was not a dream. This was actually Scottie Pippen, braving a New England winter in massive rubber boots and a black Nike cap.
Pippen was in Maine as the guest of Sergey Kushchenko, the CEO of the Russian Biathlon Union, who's also the right-hand man of New Jersey Nets owner Mikhail Prokhorov.
He did his best to blend in, dressing in all black: big puffy snowpants, a cavernous canvas hunting jacket. But it's hard to be missed when you're 6-foot-8 and one of a dozen or so African-American people in the entire municipality -- and your credential actually reads "Scottie Pippen -- VIP."
After making an appearance at the awards ceremony, where he dwarfed the women's winner, Pippen headed to the range, with Kushchenko and Ivan Tcherezov, a star Russian biathlete, in tow.
On his feet, Pippen missed all five shots from his first clip. Then he sat down, pioneering a new shooting position. (In competition, biathletes fire while prone, or standing -- not in between.)
With the gun in his lap, Pippen did something that no one expected him to do: He actually hit a target. Then, another and another. He reloaded, then took down the last two, with a fist pump.
"How many shots it take me?" he asked.
Pippen is known for a different kind of shooting percentage, but it sure seemed like he had a knack for this half of biathlon. In the press conference, someone asked what it would take to get him out on skis.
"A guaranteed contract," he said.