For all the goals Rennie Curran had, the one still unaccomplished will finally be achieved in just a few days.
Ever since the Tennessee Titans linebacker was young, Curran was immersed in a Liberian state of mind. His mother came to America from the West African nation in 1984 to study nursing at Emory; his father came to visit a year later and ended up staying when civil war broke out back home. After they took up residence in the states, the Curran family took it upon themselves to help family members come over and send financial support to those still in Liberia.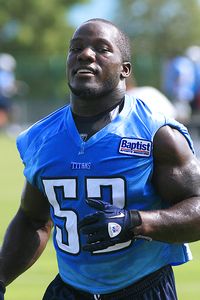 Danny Murphy/Icon SMITennessee Titans linebacker Rennie Curran's parents is traveling with his family on a charity mission to Liberia.
Far removed from the days when he had to give up his bed to family members, Curran will finally experience in person what he only saw in pictures and videos. He and his family will embark on a 10-day charity mission and tour to Liberia starting Monday.
"It's been something I've wanted to do for a while," Curran said. "I can't wait to have all that speculations and the dreaming and everything that I've heard actually become a reality."
Curran calls the trip the Liberian Dream, his nickname growing up and the same phrase he tattooed on his left arm, sandwiching an inked Liberian flag.
"It really represents the vision of just what hard work and education and doing things right, that dream of making it and going back and helping your people and giving back," Curran said.
In partnership with the non-profit Liberia Economic Development Initiative, run by his older sister, Curran hopes to create awareness about Liberia by doing charity work, evaluating the country's needs and meeting with people and governmental officials to build relationships for future endeavors.
"We're very blessed individuals; I feel like we're in the position to give back, and I feel like it's something that should be important to every player in the NFL," Curran said. "I don't think people realize how little money can change people's lives. You can spend money on car or clothes, but there's nothing like giving money to change a life, to know it's going towards something great.
"I think it can make life worthwhile, to know that you're giving someone an opportunity that they never could dream of, just because of something you did."