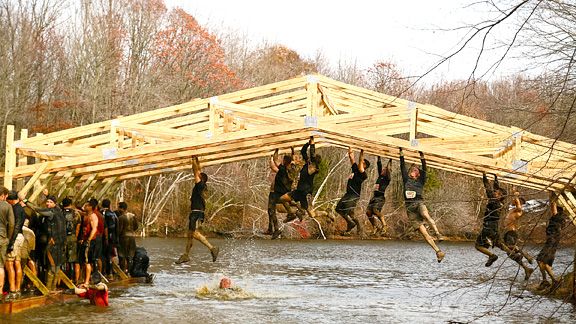 Courtesy of Tough MudderThe greased monkey bars are the least of David Tyree's worries.
David Tyree is going to run through fire for charity.
Literally.
Then again, the former New York Giants wide receiver and Super Bowl XLI hero will also crawl under eight-inch-high wires, swing across monkey bars greased with butter, sprint through a field of live wires and navigate something called the "Ball Shrinker."
It's all part of the nine-mile Tough Mudder endurance challenge event, self-dubbed as "probably the toughest event on the planet." And Tyree, along with trainer Brian Pabst, Christian artist Nelson Diaz and his son Michael Diaz, will climb 12-foot walls and stomp through sludge to raise money for former Rutgers University football player Eric LeGrand, who was paralyzed this past October during a game.
"After the workouts, I'm thinking about the fact that Eric isn't able to walk, that he would die for the opportunity to do what I'm doing right now," Tyree said. "We're going to run through fire, we're going to swim through water, we're going to be some extravagant demonstrations to show how much we love Eric."
Team Believe will compete this weekend in Allentown, Pennsylvania on a course that includes 18 stages, each with its own unique challenge. The final obstacle is a sprint through kerosene-soaked straw and four-foot-high flames. Just before that, racers must navigate live wires, some powered with a 10,000-volt shock.
"It was like, OK nine miles, there was some crazy stuff, walking through the mud, doing some swimming," said Tyree, who announced his retirement from football on July 29, 2010. "I don't think I was really grasping the fire and the electric shocks and all this other crazy, crazy stuff. Truth be told, I'm not even a crazy workout junkie, so I was relaxing enjoying being retired for a while."
Tyree, who said his biggest post-retirement workout before ramping up his training for Tough Mudder came from chasing his five kids around, just wants to complete the course. But the magnitude of the moment will be compounded by LeGrand's expected presence in Allentown.
"I'm going to finish, I'll guarantee you that," said Tyree, who plans to continue "doing more extravagant things" until Team Believe raises its $52,000 goal. "If the average time is 2 hours and 15 minutes, put me somewhere behind the average.
"But knowing Eric will be there with us will make it that much more special."