Kyrie Irving, college basketball hardly knew you. The heralded freshman point guard declared for the NBA draft on Wednesday and plans to hire an agent, after playing in only 11 games for the Blue Devils, missing much of the season with an injured big toe on his right foot. Page 2 looks fondly back on the highlights of the Kyrie Irving era: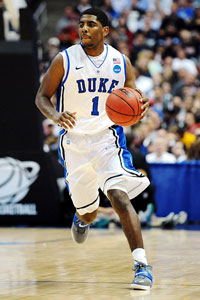 Chris Williams/Icon SMISo quickly, the Kyrie Irving Era has ended at Duke.
• Talked trash to former Duke star Jason Williams during a game of H-O-R-S-E.
• Professed love of the Waffle House, and in particular, the double-chocolate chip waffle.
• Had 31 points, 6 rebounds, 4 assists, 2 steals, 2 blocks in No. 1 Duke's 84-79 victory over No. 6 Michigan State on Dec. 1.
• Subject of "Save Kyrie's Toe" campaign and the accompanying video, which advised that support for the toe's recovery could "mean the difference between 40-0 and a national championship and 39-1 and a national championship."
• Scored in double figures in each of his three NCAA tournament games, including 28 points in a Sweet 16 loss to Arizona.
• Was on the receiving end of an open letter in the Duke student paper sarcastically advising Irving to go pro, that said, among other things: "Plus, sticking around and winning a fifth national title for the Blue Devils is just selfish, even if you haven't ever won one yourself. Think about it: Cameron is already full of national championship banners, and adding one of your own would ruin the symmetry in the rafters."
• Tweeted "Being at NBA games always is enjoyable for me."
• Coach Mike Krzyzewski said of Irving's departure: "Our whole program is overjoyed with having Kyrie here for one year and that he has the chance now to pursue a dream of being a high draft pick and a great player in the NBA."