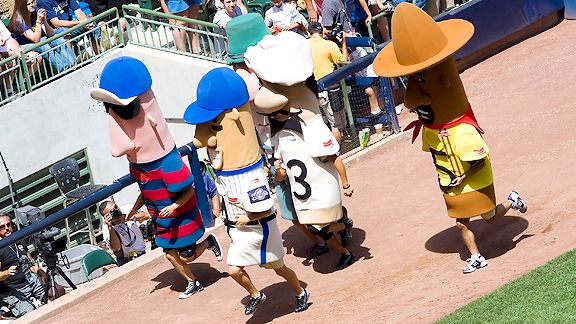 Stephen A. Arce ASP Inc/Icon SMIThe Brewers' Sausage Race takes place in the middle of the sixth and makes its case for cased meats.
• Gallery:
Miller Park experience

|
Stadium Guide
|
Passport: Check in
|
Buy Brewers tix
Game time is rapidly approaching and the stadium parking lots are nearly full. Only a smattering of fans has made its way inside Miller Park, though. That's because the Brewers fans are having too much fun outside.
When it comes to baseball in the Brew City, the pregame ritual is all about the tailgate. The aroma of simmering brats fills the air, while fans sip their favorite local brew and toss the pigskin or horsehide around.
As for the bratwurst, the fans favor local brands like Klement's, Sheboygan and Johnsonville, and know just how to prepare them. While neophytes might merely take the spicy German sausages out of their packaging and toss them right on the grill, Brewers fans know to boil them in beer before heading to the park, then to put them over the coals to brown up.
Tom Olson, 48, a Milwaukee native, has a dream job for a lifelong Brewers fan. He oversees the operations at Klement's Sausage Haus in the Miller Park parking lot, among his other responsibilities as district manager for Milwaukee Sportservice Inc.
"When someone says, 'Let's go to the game,' in other cities, they grab their glove and cap," Olson explains. "In Milwaukee, the first things we look for are our grill and cooler. I tell people, being a Brewers fan is like having 81 football games a year."
Jordan Mader, a 19-year-old University of Wisconsin-Madison student from Appleton, Wis., drives two hours each way to attend about five Brewers games a year.
"Going to a Brewers game is an all-day affair when you don't live in Milwaukee," Mader says. "I've been involved in trips when we were the first in line before the parking lot opened and among the last to leave after grilling up some more burgers and brats after the game. The Brewers have a statewide following and I think the long trips to Milwaukee might contribute to why tailgating is such an institution."