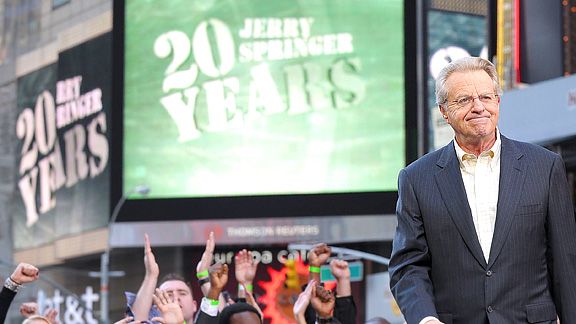 Michael Loccisano/Getty ImagesJerry Springer's 20-year run in daytime television has provided him with access to the sports world.
Jerry Springer might not be here today if not for the New York Yankees.
The famed talk show host and former politician has pledged his baseball allegiance to the Bronx Bombers ever since they saved his skin -- albeit indirectly -- as a 6-year-old in Queens, N.Y.
"I live and die with the Yankees," Springer told Page 2 on a recent visit to ESPN headquarters. "That's my greatest passion."
But Springer almost never made it to Yankee Stadium. He almost never became mayor of Cincinnati or enjoyed 20-plus years as host of "The Jerry Springer Show." But thanks to the Yankees, he did all those things and ultimately became a character of Americana.
The year was 1950. Springer's family had recently emigrated to the United States from England, where they had fled as German refugees during World War II. When it came time for young Gerald Springer to attend school in America, his mother sent him to class wearing typical English schoolboy attire.
"I wore my blue shorts, a jacket, a bow tie, a beret and knee socks," Springer said. "I had a bloody British accent, and the kids beat the heck out of me and ripped my suit. Next day, I go back to school, same thing happened."
Not surprisingly, Springer became scared to go to school. So his mother began asking around about how young Gerald could be accepted by his new peers. Told that American boys love baseball, she marched her son to Gertz department store in the Jamaica section of Queens in search of a "baseball outfit."