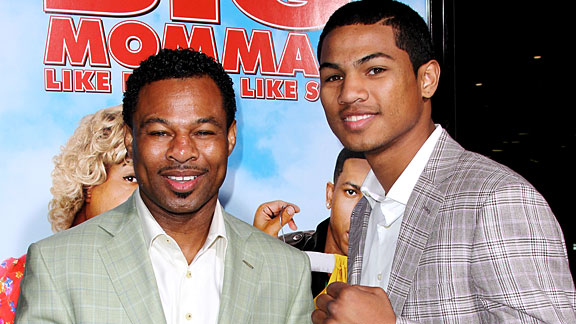 Valerie Macon/Getty ImagesShane Mosley Jr., training to be a boxer himself, said not to underestimate his dad Saturday night.
It's not like Sugar Shane Mosley is looking to life after his big fight Saturday against Manny Pacquiao, but the 39-year-old boxer breaks into a genuine smile when he talks about his son, Shane Mosley Jr., an up-and-coming fighter in his own right.
"Yes, he emulates me. Our styles are a little bit different, but I'm so excited for him," Mosley Sr. said. "I'm always cheering when he's in the ring. I don't get nervous or scared. Nothing bad will happen to him. He's very capable of doing this for a career."
As Mosley Sr. (46-6-1, 39 KOs) takes on Pacquiao (52-3-2, 38 KOs) for the welterweight title in Las Vegas, the 19-year-old Mosley Jr. is trying to create his own path in boxing. But that will have to wait until after Saturday night.
"Nobody even believes my dad has a chance in this fight," Mosley Jr. said. "This is his legacy. This is his life. He will show them differently."
Not many people are giving Mosley a decent shot against the 32-year-old Pacquiao, but Mosley's son sees things from the perspective of watching his dad train and prove doubters wrong. Mosley Sr. has won world titles in three weight divisions.
"I want to be just like him," Mosley Jr. said. "He has so much energy. I'm so proud of him."
Mosley Sr., who turned pro in 1993, said his son must understand that boxing comes first to be successful.
"This has always been my first love. If he wants to do this for a living, that means boxing is first and everything else is second," Mosley Sr. said. "With a lot of hard work and dedication, he can earn all the success I have. If he's disciplined, I can be happy and proud."