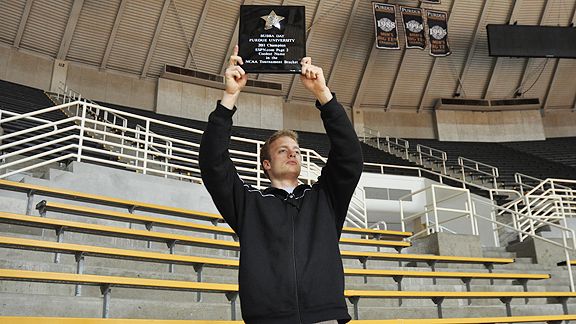 Purdue University Athletics Bubba Day proudly holds the Page 2 Coolest Name in the NCAA Tournament award at Mackey Arena.
It's been a month since Purdue guard Bubba Day captured the hearts of America by by winning Page 2's Coolest Name in the NCAA Tournament bracket.
So Page 2 reached out to Day to see how he's enjoying the subsequent whirlwind of fame and lifestyle of a rock star. Here's what transpired:
Page 2: In what ways has your life changed after winning such a prestigious award?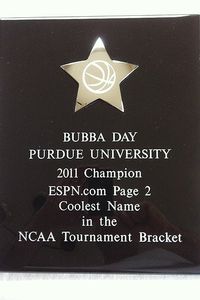 Thomas Neumann/ESPN.com This plaque absolutely, positively represents a major award.
Day: It's changed in enormous ways. I do get recognized a lot more when I go out or just walking around campus. People and fans will start up conversations with me ... and I actually got to do a commercial for local ESPN radio. That was fun.
[Editor's note: Click here to listen to the commercial, courtesy of ESPN 1450 in Lafayette, Ind.]
How often do co-eds come up and say, "Hey, aren't you Bubba Day, winner of Page 2's Coolest Name in the NCAA Tournament bracket?"
It does happen. I just take it as it comes.
Come on, don't be modest. Surely, it's been a tremendous boon to your love life, right?
Nah, I want a girl who's after something more than just the fame and the jersey and the status.
Does Purdue plan to raise a banner in your honor to the rafters at Mackey Arena?
It only makes sense. I know, previously, they've only done it for All-Americans, but they just might have to make a concession for this one.
Purdue doesn't retire players' numbers. But wouldn't it be appropriate for the school to retire your name?
Of course I'm up for that. I think it would be very appropriate. It would leave a legacy of the name and something for other walk-ons to aspire to.