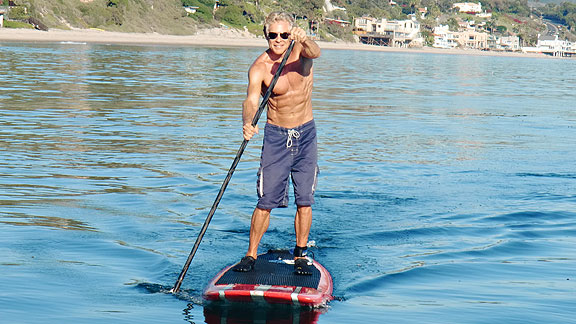 Courtesy of Mark SiisonDoes this dude on the board look 57? Makes me want to exercise right now.
When Mark Sisson ran marathons, he saw what it did to his body.
"My training got to me so early," said Sisson, who qualified for the 1980 Olympic Trials -- "my goal in life," he called it -- but couldn't compete because of "debilitating" injuries. "I caved at the age of 27 or 28."
As general secretary of the International Triathlon Union years later -- when he oversaw drug testing -- Sisson noticed it again.
"I realized that the reason athletes use the supplements, for the most part, [is] to recover faster from training," Sisson said.
So Sisson decided to do something. Always science-minded -- he earned a biology degree from Williams College in the 1970s -- Sisson explored new diet and training techniques, started a popular and interactive blog called Mark's Daily Apple, and in 2009 released a book called "The Primal Blueprint," which has been one of the better sellers on Amazon.com.
And his philosophy is hardly what you'd expect from a man who once finished fifth in the 1980 U.S. National Marathon Championships, and two years later took fourth at the Hawaii Ironman Triathlon (he retired from competition soon after).
The diet: Mimicking humanity's hunter-gatherer days, eating little more than meat, vegetables, some fruits, and almost no grains or sugar carbohydrates -- something unusual in the carb-charged field of athletics.
The training: Where he once worked 20 to 30 hours per week, he now performs four brief-but-intense sessions a week, and does a lot of "play" in the form of hiking, snowboarding and, occasionally, Ultimate Frisbee with his 17-year-old son and friends. (In total he says it's about two hours weekly; "I'm almost embarrassed with how little I train.")
The result: Now 57 (and 58 soon), he's still cut, saying his body fat is close to the same as when he was a competitive endurance athlete. And, he said, "I'm pretty sure that I can sprint faster now" than back in those days.
Which brings him back to athletes. As in, he wants more to follow his plan. Canadian triathlete Simon Whitfield, a 2000 Olympic gold medalist, follows Sisson's words. But after that, Sisson said, "I haven't had as many athletes as I'd like."
That might be because of the sacrifice; he said it takes about six months for an elite competitor to go low-carb.
But the payoff, he said, is worth it.
Hey, just look at those pictures. Or the Ultimate Frisbee field.
"I'm the oldest guy on the field by far most times," he said, "and I can keep up with anybody."