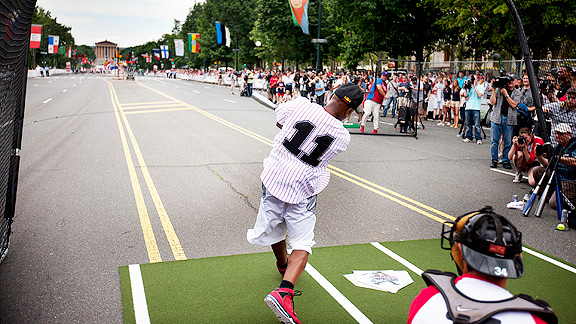 PRNewsFoto/Red Bull/Brian NevinsJimmy Rollins attempted the world record down Ben Franklin Parkway in Philadelphia.
Babe Ruth's mark is safe.
Philadelphia Phillies shortstop Jimmy Rollins didn't break the Guinness Book of World Record mark of "longest batted ball" by Ruth's 575 feet in 1921.
Rollins, using a composite bat made with fiberglass and other materials, hit one 463 feet in downtown Philadelphia out of more than 50 pitches from his team's bullpen coach Mick Billmeyer in front of more than 3,000 fans as part of a stunt for Red Bull.
"I knew it was going to be difficult, but with the science and technology behind me, anything's possible," said Rollins, whose longest home run was 420 feet in a game. "Getting distance is hard enough to do but today technology gave me another 40 feet."