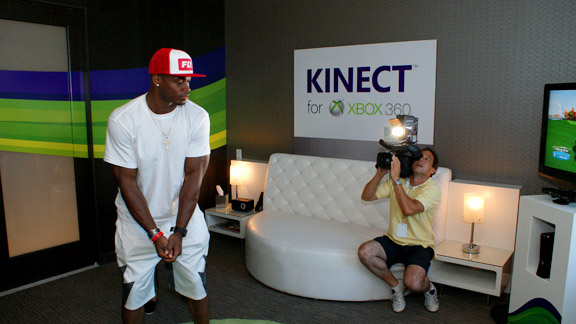 Courtesy of Scott TejerianOn Monday night, Vikings Adrian Peterson was trying out golf on Kinect for Xbox 360.
LOS ANGELES -- Adrian Peterson is taking his job seriously as editor in chief of ESPN The Magazine.
On Monday, Peterson -- the All-Pro running back for the Minnesota Vikings -- stopped by ESPN The Magazine's ESPYs Style Studio to check out the gifting suite.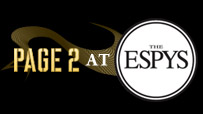 "This is really cool in here.You get a chance to see a lot of new stuff," said Peterson, who got the chance to see the latest gadgets such as HP's TouchPad, Skull Candy Headphones, Roger Dubuis watches and apparel from Goorin Brothers, among others. "There is so much to see. I need to keep looking. I really like to dress up on special occasions."
While the NFL is still "on a break," Peterson agreed to be the magazine's guest editor for the Revenge of the Jocks issue, hitting mailboxes July 27 and on newsstands on July 29. He recently visited the magazine's new Bristol, Conn., headquarters to meet employees and make editorial decisions.
"It was a lot of fun and it was something different for me to do," said Peterson, who has played four seasons for the Vikings. "I like being the boss and calling all the shots."
But Peterson, 27, isn't thinking about switching careers anytime soon. To be honest, he has other ideas post-football.
"God willing, I'd like to go into broadcasting or maybe coaching," he said. "But that's many years away."
Other athletes who popped by the Style Studio, which is a kickoff for ESPYs week at the W Hotel in Hollywood, included New York Jets rookie Greg McElroy and Denver Broncos quarterback Tim Tebow. The studio will be open for a few more days, and New York Knicks power forward Amare Stoudemire, actress Kelly Monaco and New Orleans Saints running back Mark Ingram are scheduled to stop by.
Tebow, who was walking through the Studio with his brother and friends, was trying on some "Leisure Larry" hats by Goorin Brothers.
"You think I should wear this hat during golf on Tuesday?" Tebow said. "You know I can definitely rock this look."