Pro wrestler Kurt Angle always has been a warrior.
The 42-year-old Pennsylvania native won the 1996 Olympic gold medal in wrestling, after winning two college national titles. He also won titles in the World Wrestling Federation and now his current company, Total Nonstop Action Wrestling. And he's dealt with his own personal demons from arrests to divorce.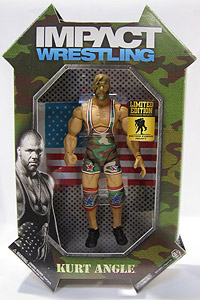 Courtesy of JAKKS The first prototype of the figure is set to be unveiled on Saturday.
But he's fought through all of this and, now with a new fiancee and the birth of his daughter this spring, he's in a better place mentally and physically.
That's why he's taken on "Warrior" as his nickname.
"I think I have a purpose in life and that's to serve the wrestling fans," said Angle, who started wrestling at the age of 6. "I love the live events and signing autographs and taking photos. To be honest, that really motivates me to entertain them. Those fans are so grateful."
And this weekend, TNA Entertainment and JAKKS will announce the Kurt Angle action figure to benefit the Wounded Warriors Project, a charity that helps raise awareness and funds for the needs of injured service members. All the proceeds from the sale of the action figure will go toward the charity.
"I met a soldier who was a pastor who helped me recently through the difficult times in my life," Angle said. "So I wear to the ring this dog tag he gave me. I'm a very patriotic guy and not just because I was in the Olympics."
On Friday, Angle is heading to a military base outside San Diego to talk with the troops and watch a screening of his movie "The Warrior", which is about mixed martial arts. And, this weekend, Angle will be at Comic-Con in San Diego for the trade show highlighting comics, toys, video games and movies. His action figure will be on display.
"Most people still don't understand how dangerous life in the military is until you head overseas to see it first-hand," said Angle, who has been to Iraq twice and also Afghanistan. "I have so much respect for the soldiers. I'm so honored to be helping this project."