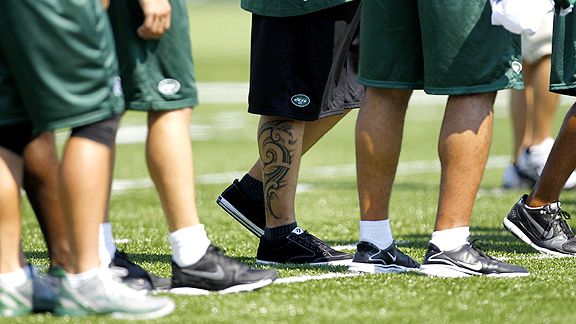 AP Photo/Julio CortezThe leg of New York Jets head coach Rex Ryan (center) is seen with a tattoo during camp.
Rex Ryan showed up for the Jets' first official camp practice Monday sporting a new tattoo on his right leg. He wasn't asked about it by reporters, but he released a statement after practice, explaining why he decided to go for the ink.
"I was on vacation in Hawaii [early last month]," he said. "I've got a couple of tattoos before. I just felt like it. The guy that I went to had given me tattoos before and it's just something that I wanted to do."
The Jets turned the whole tattoo thing into a mini-event. It first appeared on the Jets' Facebook page and Twitter accounts Monday morning. On Facebook, Ryan revealed his tattoo to fans in a video and asked them to guess the meaning of the new tat. He will reveal the meaning Tuesday at noon.