When Jimmy Hart was growing up in Memphis, he never thought he'd be involved in professional wrestling, let alone still be carrying around his infamous megaphone, talking about the industry he's been involved in now for over 30 years.
Long before Hart was known as "The Mouth of the South" and one of the greatest managers in wrestling history, he was one of the lead singers of The Gentrys, a rock and roll band best known for their 1965 hit song, "Keep on Dancing."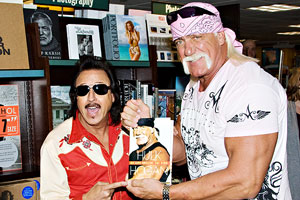 AP Photo/Charles SykesLongtime wrestling manager and musician Jimmy Hart, with Hulk Hogan in 2009.
The song was a favorite of Jerry "The King" Lawler, who went to Memphis Treadwell High School a couple of years after Hart, and when Lawler became a professional wrestler in the late 1970s, he asked Hart to be his manager.
Hart continued to be involved in music even after he got involved in wrestling. By his estimation he wrote the entrance music for 23 wrestlers in the WWE and 101 in WCW. Much like his days with The Gentrys, some songs are obviously better known than others.
"We did all the WCW Nitro Girls entrance themes, the Wolfpac music with Kevin Nash and Scott Hall, Buff Bagwell's stuff and Raven's theme," said Hart, who was in Los Angeles to promote Mattel's new WWE Legends action figure line which come out next fall. "The ones everyone remembers are Shawn Michaels' theme, 'Sexy Boy,' The Rougeau Brothers with 'All American Boys,' all of The Honky Tonk Man's greatest hits, the theme song for Demolition, which was sung by Rick Derringer, and the wedding song used for Randy Savage and Miss Elizabeth."
Hart, who is still involved with the WWE and made an on-camera appearance at Sunday's SummerSlam along with Los Angeles Lakers forward Ron Artest, still pays close attention to the theme songs used by today's wrestlers and knows instantaneously when he hears a hit or flop.
"It was great for me to be able to do all those songs," Hart said. "I was in Afghanistan last year for the troops and they told me, 'Jimmy, we love the ring entrances, we love to hear the music and we love to see the pyro. That's what we love.' It's very so important. When you hear a theme song, and if the fans know on the first note who's coming out, that's when you know you have a good one."