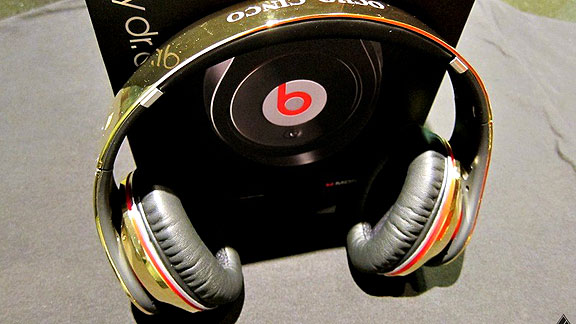 Courtesy of Beats by DreChad Ochocinco wanted his headphones to be special so he added gold to them.
If you see New England Patriots wide receiver Chad Ochocinco before NFL games this fall sporting these new headphones, it's not so simple to buy them.
Ochocinco, who has always been an individual, recently hired Los Angeles jeweler-to-the-stars Ben Baller and the IFandCo company to customize his Beats By Dre headphones.
We told you last year how popular these hearing devices would be with athletes, but now Ochocinco has taken it to another level.
Not sure when hip-hop artist/producer Dr. Dre teamed up with Interscope-Geffen-A&M chairman Jimmy Iovine to create these studio quality headphones, that they'd be talking about someone tricking out one to a tune of 500 grams of gold and rumored to be valued at $15,000.
"It was such a [pain] to disassemble these and then deal with soldering wires and making sure the sound is right," Baller said. "These are crazy though!"