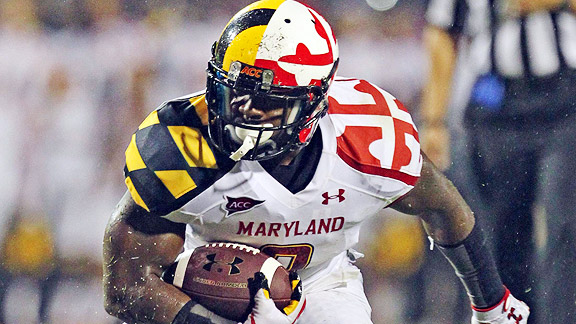 Mitch Stringer/US PresswireMaryland running back Davin Meggett displays the Terps' interesting uniform in their win over Miami.
The first weekend of college football certainly had its share of, um, memorable looks (well, unless you've already blotted them out by doing a clean install of your brain). Here are some of the highlights -- or lowlights, depending on your point of view:
• Oklahoma State goes ashen: For reasons that aren't entirely clear, gray is a "hot" color in design circles at the moment. This is fine if you're wearing, say, a gray cashmere sweater or a gray flannel suit. Not so great if you're wearing a gray football jersey. Of course, "gray" is too simple a color name, so let's call it "cigarette ash," or maybe just "dirt." By any name, it's a pretty weird choice for the season-opening game, right? It's like saying to your fans, "Hi -- blahh." The good news: The Cowboys have several other jerseys to choose from. The bad news: They also have gray pants and a gray helmet waiting in the wings.
• UGA goes Ocean Spray: In theory, a two-tone facemask sounds like a cool idea; in practice, it makes you look like someone gave you a bloody lip. OK, so it probably wasn't even a good idea in theory, but it was probably better than the rest of Georgia's uniform costume on Saturday. The good news: This was a one-off design that won't be worn again this season. The bad news: Since UGA lost, someone at Nike is probably saying, "The uniforms weren't crazy enough. We'll come up with something even crazier for them next year!"
• Maryland goes bonkers: In case you were under a very large rock last night, the Terps were in court jester mode. For some reason I kept thinking the players looked like living chess pieces. Like, was the play call in the huddle, "Knight to king's bishop four" or something? The good news: No team can possibly go further around the bend than this. The bad news: Sure they can.
• Click here to vote on the weekend's college football uniforms at SportsNation